The Granger's August 2021 Newsletter
1 Corinthians 14:12 "Since you are eager for manifestations of the Spirit, strive to excel in building up the church."

Exodus 31:1-5 "The LORD said to Moses, "See, I have called by name Bezalel the son of Uri, son of Hur, of the tribe of Judah, and I have filled him with the Spirit of God, with ability and intelligence, with knowledge and all craftsmanship, to devise artistic designs, to work in gold, silver, and bronze, in cutting stones for setting, and in carving wood, to work in every craft."
---
Good Problems - Great Provision
---
We looked, no, we scoured Bisrate Gebriel in search of a place to call our own. Trinity Fellowship's lease at the movie theater was due to end on July 25th. We were nearing the beginning of July, and still hadn't found anything. The thing of it was, we'd been searching for over 2 months, and felt that finding a decent place large enough to seat at least 150 had become impossible. Our faith was burning low, and we'd given up on the idea of staying in Bisrate Gebriel. We'd been praying dangerous prayers for God to provide in such a way that we would see his hand move - little did we know he would bring us to weakness giving us good problems that only he could solve. We were weary - driving through Addis Ababa is no Autumn stroll through Central Park. Instead of spending our days in ministry, we were spending our days driving around with brokers. And then, in July, by apparent accident we found a spot in the neighborhood of Bisrate Gebriel - the very neighborhood we've been praying over for years now. Within a week we had a 2 year lease agreement for a room with a view of all Addis Ababa. What is more, by the grace of God our problems continue - good problems! We're already maxing out on our seating. When we moved into the new place we only had enough dough to purchase 100 chairs. We're now 3 Sundays into our new location and those seats are filled with people. We're praying for the Lord to give enough money to purchase another 100 seats. We think we could fit another 100-150 easily. Only 9 months into the official launch of Trinity Fellowship and the Lord has/is abundantly providing for all our good problems!
We're coming to the end of our first book or series as a church. Expositional preaching is something almost like magic. We're nearing the end of Philippians and as we come to the conclusion of this epistle we find that we are changed. We as a church are not what we were before Philippians. These books, these epistles, the theology, the characters and their situations - they go deep down into the hearts of men and women - and by the power of the Holy Spirit they begin to change the spiritual DNA of the one who listens. We have seen conversions. Almost weekly we're meeting individuals we refer to as the de-churched - individuals who have left the church for years due to bad theology, abuse, and false teaching. But now, as God's Word is declared, they're being healed, changed, they're growing. One small example would be the recent testimony of a dear brother in the church who has never experienced assurance of salvation. He's always been more aware of his sin and his failures than he is of the grace of God as revealed through the gospel. I told him, nearly a year ago, the thing that would make me most happy, would be to see him happy in Jesus. With tears of joy I want to inform you that he recently looked at me and said, "I want you to know, I'm happy in Jesus." Good problems - Great Provision!
A room of one's own - the new Trinity Fellowship sanctuary prior to renovations.
The view from our new location.
Meet Esayas, he's been part of our church planting team from the beginning. This brother is a jack-of-all-trades. Using refurbished wood he did nearly all of the wood work for our stage and backdrop.
Meet Allesandro - half Ethiopian, half Italian. His family owns perhaps the most famous metal works company in East Africa. In the kindness of the Lord, he's part of Trinity Fellowship and he helped build our stage. Here he's taking measurements.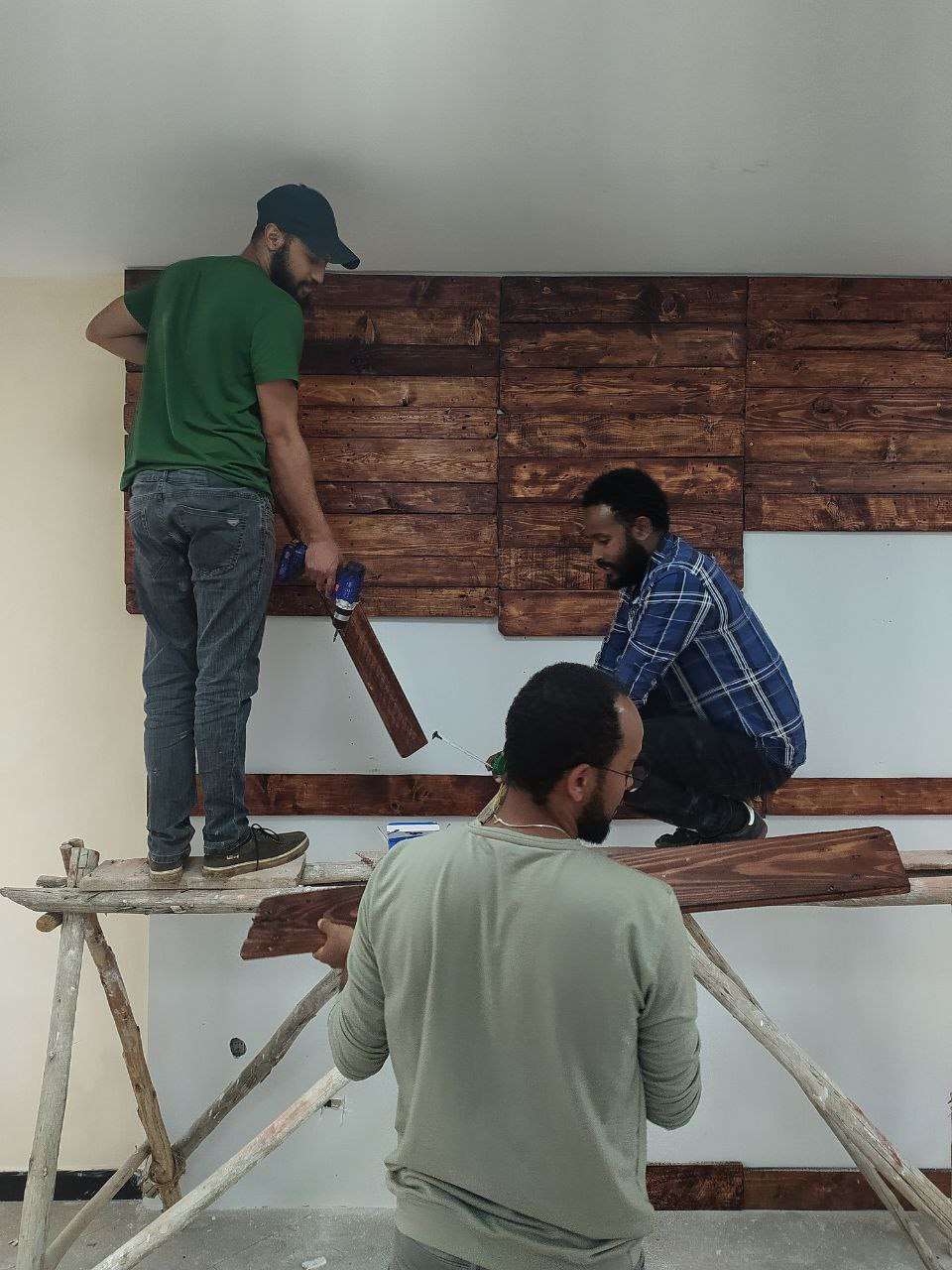 The brothers building the backdrop to the stage.
Half way there - (Left to right) Sammy, Esayas, Ammanual, Dawit (My brother-in-law)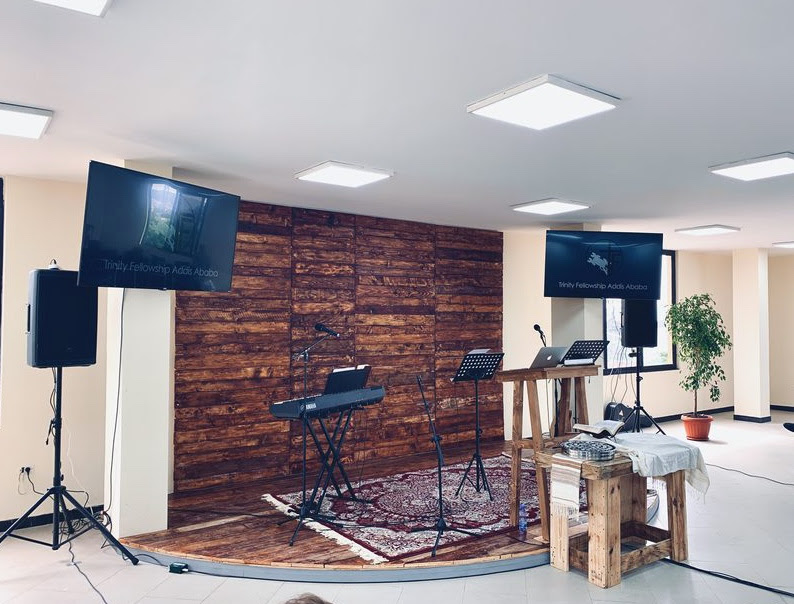 The final product!
Esayas doing the Scripture reading on our first Sunday at the new location.
I too get to play a part in this beautiful Holy-Spirit orchestrated symphony of every-member-ministry to preach the Word and administer the Lord's Supper. I'm fully convinced I have the best job in the world!
---
The Pastors College
---
It's on! Next month, on September 14th the Trinity Fellowship Pastors College will begin! It seemed like some massive mountains would need to be moved for this college to happen. We prayed for God to provide abundantly and oh man, the mountains were moved. A number of friends and partners have given abundantly to make this happen - Sovereign Grace Churches under the direction of Mark Prater even established a new African Development Fund to make projects like this a possibility.
Here's what's going down… Josh Pannell, the dean of the Pastors College has masterfully crafted a beautiful 1-year program with masters level theology classes. Throughout the weekdays the new church location will be used as the college's lecture hall. By the grace of God, some 36 professors and teachers have agreed to fly out to Addis Ababa and each will teach a 1-week block course. The structure consists of 40 classes spread out over 52 weeks. As of today, we have accepted approximately 13 students to our PC from 6 different countries: Somaliland, Somalia, Kenya, Rwanda, the U.S.A., and of course Ethiopia. We've even partnered with Union School of Theology in Wales. They are looking to give credits to our graduates with the opportunity to do a 1-year research driven masters degree upon graduation from our PC. And the best part is, they will not be required to leave Ethiopia or Trinity Fellowship. As one of our students recently said, "This is historical!"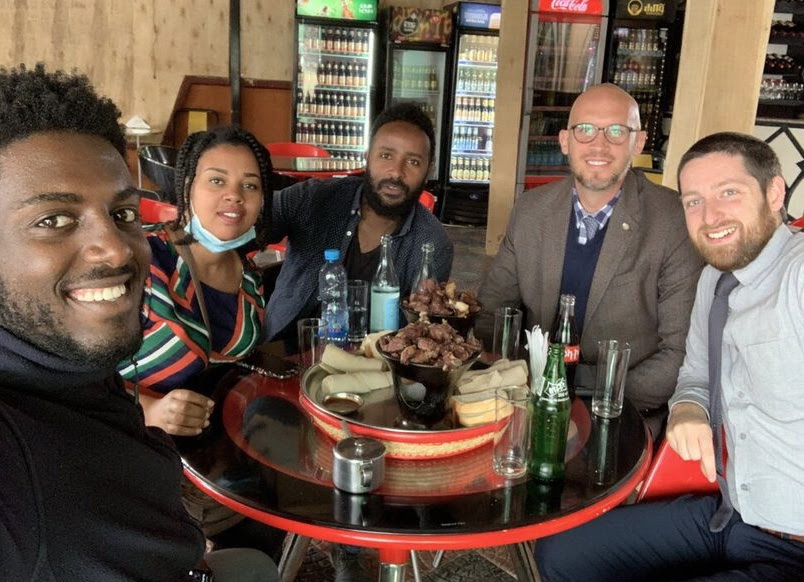 After signing the contract for the new Church and PC location we went out to celebrate with goat meat. The only appropriate meal for all celebrations! (Left to Right - Abenezer, Tensu, Dawit, Me, Josh)
Rolling around in a Bajaj (minature taxi) while the truck is in the garage.
Kenean and Moses share a birthday - August 13th. We can't believe our boy is 9 years old! My wife is ___ years old!!!
---
More Mountains Need Moving
---
This afternoon my father, Mike Granger told me his doctor informed him his cancer is terminal. Not only in his colon it has also metastasized to his liver. My heart hurts. It is a serious blow to our family, but it is not the end. There is a hope in any and every circumstance - the hope of Jesus. But my heart hurts still. I want more memories. I want my dad to be able to travel to Ethiopia. I want my children to know my dad more. Please pray that the chemo would gain special power to kill his cancer. Please pray that where the doctors and the chemo are found wanting, that God would bridge the gap - that God would stretch forward his omnipotent hand to heal. He bridged the greater gap at the cross. What is this lesser gap to such a mighty God?

We are in the midst of a civil war. It has not come to Addis Ababa nor does that currently seem likely. But Satan, who loves to steal, kill, and destroy is doing much destroying. Please pray for the peace of our country.
My sister Katherine and my dad. Please pray for my dad, Mike Granger to be healed from cancer.
Prayer Requests:

Short term prayer requests:
Please pray for the full healing of my dad as he fights cancer.
Please pray for the Pannell's, the Thomas's, and the Lewis's as they adjust to a new everything - country, culture, and language, church, lifestyle.
Please pray that God would bring in the funds needed for more chairs.
Please pray for the Pastors College students.
Please pray that God would raise up more Ethiopian leaders in Trinity Fellowship.
Please pray for Abenezer - for growth in wisdom, grace, theological discernment, and holiness; for our unity.
Please continue to pray for Muhammad and the Somali Christians. Pray for the Lord's comforting presence in his life.
Please pray for God to grow Trinity Fellowship in holiness, unity, love for Christ, and love for one another.
Long term prayer requests:
Please pray that God would give us grace for a life-long sustained obsessing love for the person of Christ.
Please pray for total surrender to Christ.
Please pray that God would mold Trinity Fellowship into a Christ-Centered Church that would serve as a model to all of Ethiopia.
Please pray that God would give us faithful and gifted indigenous partners; that he would lead us to the right men to disciple and train for ministry.
At the end of July, Jordan and Lauren moved here to serve Trinity Fellowship from Louisville, Kentucky. They plan to spearhead our children's ministry beginning next month. So grateful to welcome this family to TF!
James and Katherine Lewis moved here from Knoxville Tennessee bringing their strong gift of evangelism. They arrived in mid-July. And already they're a missive gift to Trinity Fellowship.
---
Thank You!
---
It's amazing to consider all that the Lord has done in the midst of this global pandemic, the Ethiopian civil war, and all the political turmoil. It's amazing to consider the means by which he has done it - he's given us partners like you. We write these newsletters to you because we feel that what God is doing out here, he's doing through you. Thank you for your friendship, your prayers, and your support!
---
... not a building... the church is the people!
---