Granger February Update
2020 has come! And it is the year we have looked forward to for so long. We're back in Ethiopia to start a new church but we're not alone. You've come with us, and when we look to either side we find you with your hands on the plow - pushing with us. By the grace of God let's do this!
Blessings that is… Yes, the Lord is raining blessings out here in East Africa! We returned to Ethiopia from our furlough on January 5th and the last 6 weeks have been jam packed with blessings. By the end of our trip to the States, the Lord had answered our prayers and we had enough funds for a vehicle. So, last week we were finally able to make a purchase. We now own an SUV that is large enough to fit 10-15 people plus supplies. What a generous gift as we prepare to start a new church.

On February 3rd, Abenezer officially began working with us full time. He will be serving the church as the Music Director and Lord willing he is a pastor in training. The fact that he is serving full-time affords us a Paul and Timothy relationship and an opportunity to commit himself to theological study.

And then, on Monday of this week, we put on a City to City Africa: Gospel in the City workshop (pictured above) in which we trained 60 church and para-church leaders/minsters on the importance of Gospel centrality in a 3 seminar study. We were affected to see pastors with over 30 years of experience humbly articulate their need for change. Many confessed they had seen the gospel as something only the lost need rather than something that they themselves and their congregations continuously need. What a sweet example of God's grace to sustain his servants for a lifetime. May that be said of us in 30 years! We were also excited to see the zeal of the younger future leaders for gospel centrality.

Finally, all these blessings come from the Lord through means - through ministry partners! It is impossible to imagine any of this happening without the blessing of fellowship. Where would we be without Sovereign Grace Churches, without Castleview Church, without First Baptist of Carmel, without The Roots Costa Mesa, without Global Outreach, without City to City, without Onesimus, without family and friends, without you?? You are a blessing to us!
Our new vehicle! Left to right: Dawit (my brother-in-law), Me (the white guy who looks like an Ethiopian), Abenezer. I could not have purchased this vehicle without their assistance. I feel like a fish out of water in Ethiopia's vehicle market.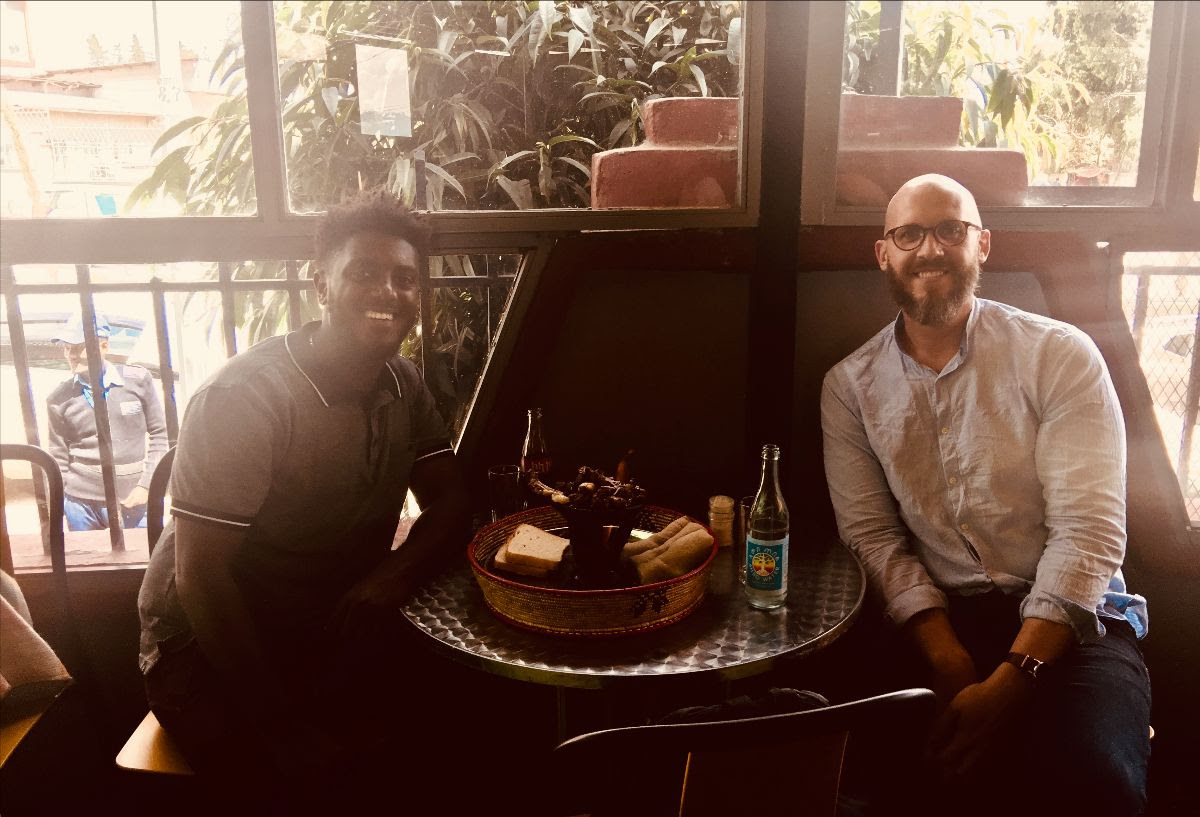 Celebrating Abenezer's first week of full-time ministry with roasted goat! Ruth's Chris ain't got nothing on this stuff! #teambuildingwithgoatmeat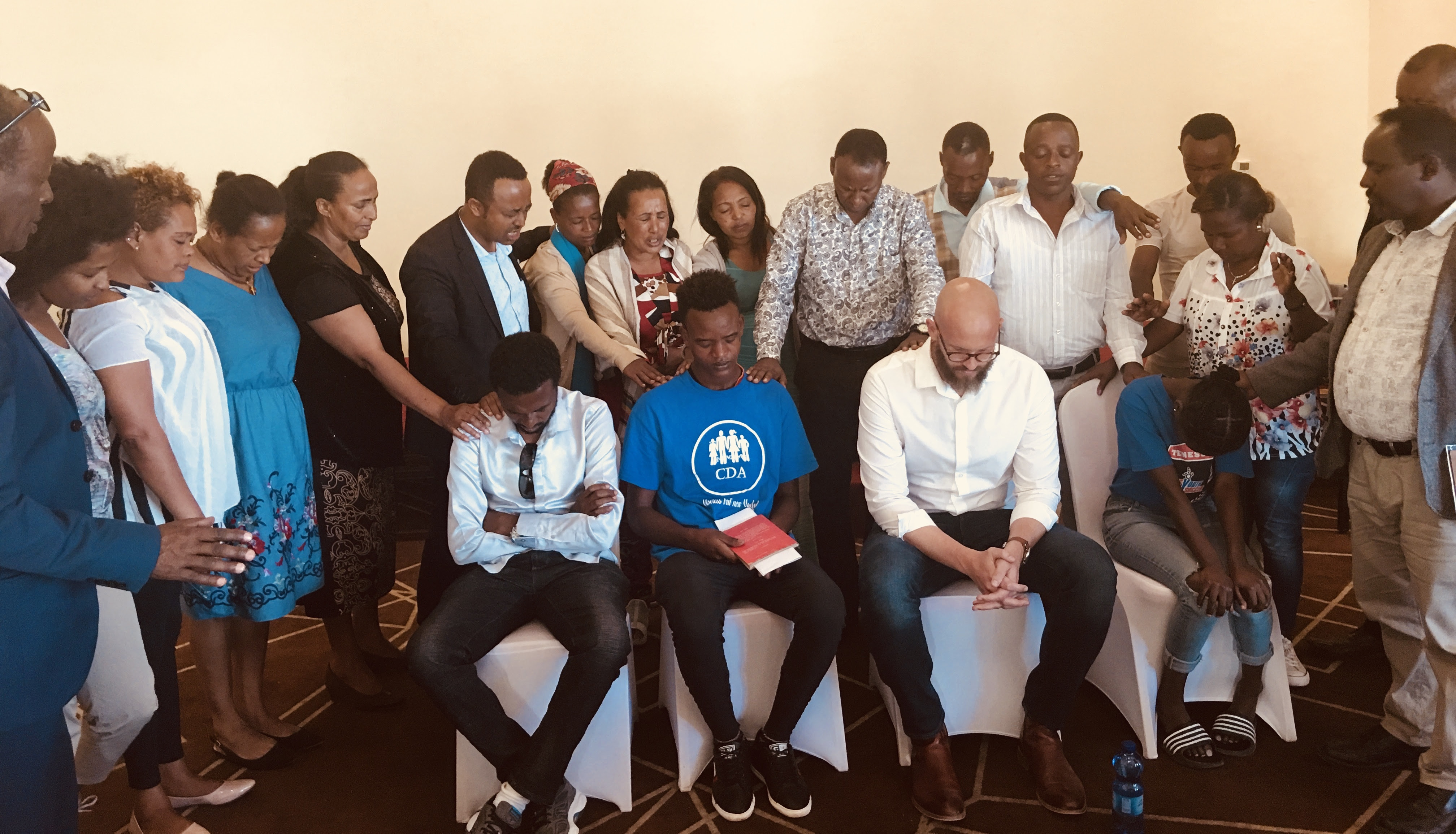 In Ethiopia you need a ministry license to start a church. We have teamed up with Onesimus, an NGO that I helped start 15 years ago, in order to legally start our church under their license. This is their board praying for me, "Don't just give him Bisrate Gebreil (the area we're planting in), give him the country!" they prayed. Their blessing and support means so much to us.
---
Working with an Unreached People Group - Part III
---
Just two weeks ago Muhammad's family came to Addis Ababa to be reunited with him. He was overjoyed to be reconciled to his wife after 7 years of separation. If you'll recall from prior newsletters, she left him because he was a Christian. One of his daughters he hasn't seen since she was a baby. It was so sweet to see them together, he seemed like a little boy who had opened the Christmas gift of his dreams. But the dream was short lived. Last Wednesday, Muhammad called me and asked if he could borrow some money for his little girl to go to the hospital, she had a skin infection. I called him two days later to check on his daughter only to hear him answer, "My wife has secretly taken the children and returned to Somalia." Apparently she used the money I loaned them only to escape. But before she left she begged Muhammed to abandon the gospel and return with them. He refused, and lost everything he holds dear, yet again. We met up 2 hours after I called him and spent the day together. Through tears he explained that before his family left, his son had told him he doesn't want to go to the Mosque anymore but rather that, "he wants to worship Jesus at church." We read through the promise of Christ in John 10:14-28 "I am the good shepherd. I know my own and my own know me, just as the Father knows me and I know the Father; and I lay down my life for the sheep… My sheep hear my voice, and I know them, and they follow me. I give them eternal life, and they will never perish, and no one will snatch them out of my hand." Not even in Somalia.
Even in the midst of great loss, we see the Lord working miracles. Last time I reported to you that since our evangelism training we had seen 27 Muslims come to Christ. That number is now 78. We are seeing the fruit of God's miracle of regeneration and we are counting our blessings! In early June we will be sending Muhammad down to Pretoria, South Africa for a 2 week intensive training with City to City Africa. And then later in the year we plan to bring together Muslim-background-leaders from all over this East African region and to give them gospel-centered training. We want to equip Muhammad now to assist in that training. For this reason, we are training him to train!
The day after Muhammad's family left him we spent the day together eating, laughing, and reading the Bible through tear-filled eyes endeavoring to remind ourselves of the promises of God in the midst of suffering.
Prayer Requests:

Short term prayer requests:
Please pray for Abenezer - for growth in wisdom, grace, theological discernment, and holiness; for our unity; and for a wife.
Please continue to pray for Aster (the single mother who lives and works with us) and her two children. We want to disciple her and her children well. Pray for unity in our relationships and for the gospel to powerfully heal and strengthen them.
Please pray for Muhammad and the unreached people group mentioned above. Pray for the Lord's comforting presence in his life.
Please continue to pray for my dad Mike Granger who continues to fight cancer.
Please pray for a building for our church to meet in. Our top two desired locations have fallen through.
Please pray for God to bring us the perfect Ethiopian church planting team. We are praying for 12 Ethiopians with an obsession for Jesus and a heart of service.
Long term prayer requests:
Please pray that God would give us grace for a life-long sustained obsessing love for the person of Christ.
Please pray for total surrender to Christ.
Please pray that God would help us to start a Christ-Centered Church in Addis Ababa that would serve as a model to all of Ethiopia.
Please pray that God would give us faithful and gifted indigenous partners; that he would lead us to the right men to disciple and train for ministry.
---
Reminding Ourselves of the Gospel
---
As we gathered to teach on the importance of gospel centrality I was reminded yet again of God's chief blessing - knowing him. Sometimes the enemy seems so close out here just as he does there - sickness, the loss of loved ones, poverty, persecution, trials and temptations seem at times that they will prevail. But the gospel comes and reminds us that it is not us who keep ourselves, but Christ who keeps us. So we sing it to ourselves and we sing it loud! Oh, what a blessing, we have Christ! We have Christ!!
"When I fear my faith will fail
Christ will hold me fast
When the tempter would prevail
He will hold me fast
I could never keep my hold
Through life's fearful path
For my love is often cold
He must hold me fast

Chorus:
He will hold me fast
He will hold me fast
For my Savior loves me so
He will hold me fast

Those He saves are His delight
Christ will hold me fast
Precious in His holy sight
He will hold me fast
He'll not let my soul be lost
His promises shall last
Bought by Him at such a cost
He will hold me fast

CHORUS
For my life He bled and died
Christ will hold me fast
Justice has been satisfied
He will hold me fast
Raised with Him to endless life
He will hold me fast
Till our faith is turned to sight
When he comes at last